Myobuddy Pro 2's Design
The Myobuddy Pro 2 massager is designed with 3 different levels of massage intensity. Whether you want a mild or medium or intense massage you can adjust to your body's changing needs. It feels amazing. Perfect for everyday use! Variable massage strength levels: For mild to relaxing to intense massages 12 foot long cord: Allows for ease of use around massage table, couch, bed, chairs Multi-layered foam massage pad. 
Myobuddy Pro 2 Benefits
Take your recovery and relief to a whole new level! This massager is the personal massager for optimizing athletic performance, relieving pain and reducing stress with a combination of vibration therapy, frictional heat therapy and percussion. More versatile than jigsaw massagers that are only able to provide percussion (up and down motion). With the Myobuddy Pro 2 massager you'll feel a lingering warmth to the treated area as a result of the increased circulation.
Myobuddy Pro 2 massager offers Results
Athletes can use this massager to warm up and activate muscles. Combine treatment with actively stretching to perform better during and recover quicker after workouts, shorten your window between training sessions, and optimize muscle recovery. Helpful for reducing muscle spasms from chronic back pain. Able to be used directly over joints and bony surfaces. Switches easily between softer and deep tissue penetration by changing from using it flat to tipping it on its side.
Multipurpose
Great foot massager for plantar fasciitis. The Myobuddy Pro 2 massager helps with leg pain in multiple sclerosis patients. Strong enough for athletes. Gentle enough to help improve circulation in eldercare. You can use the Myobuddy for pets also to help relieve hip pain in dogs and makes them feel good all over.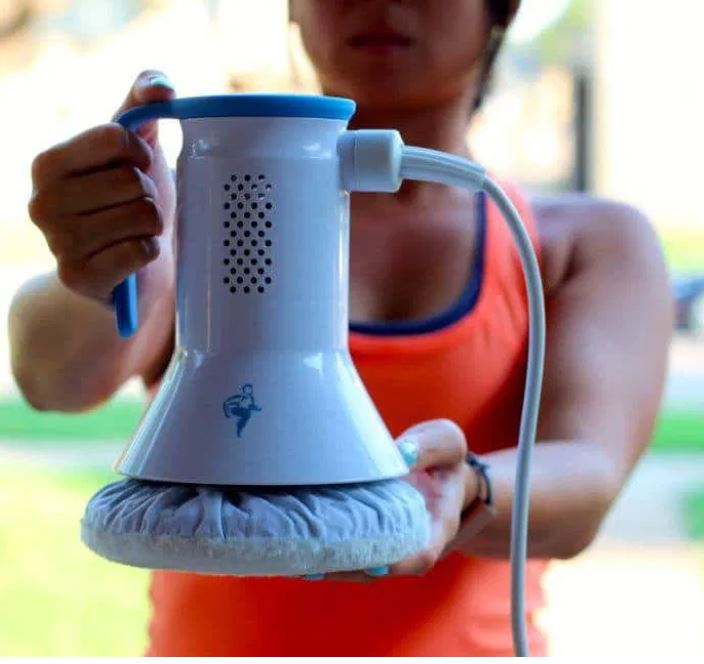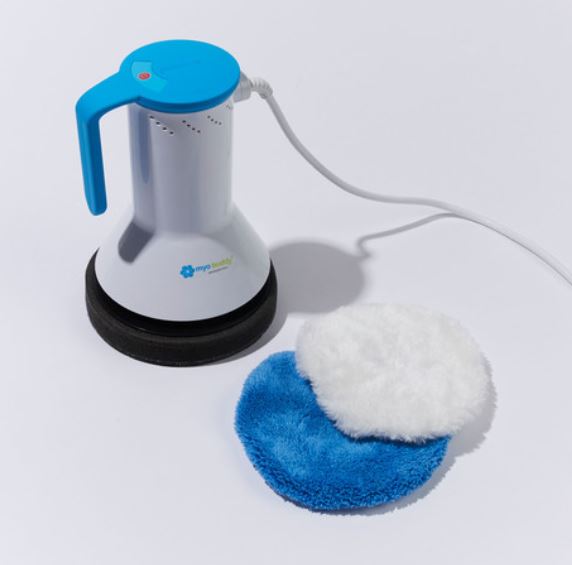 The Myobuddy Pro 2 massager helps relieve aches, pains, soreness, tightness, headaches, and IT band issues. Resulting in a reduction of inflammation, muscle spasms, rigidity and restless leg syndrome. The Myobuddy Pro 2 massager increases circulation and muscle performance, improves range of motion and speeds healing. You can enjoy a full body massage in just 4 minutes and can also be used as a pre-workout warm up.
The percussive massage aids in restoring muscle function and speeds up post workout recovery, while the massage vibration from this percussive massager on stomach can enhance digestion and bowel movements. The Myobuddy Pro 2 Massager has 3 Levels of Massage Intensity, low, medium and high making it perfect for those tender spots or dense muscle tissue.
Combining Frictional Heat, Vibration and Percussion massage makes this truly unique to competitive brands. The Myobuddy Pro 2 Massager Includes White Bonnet for Dry Use and 1 Blue Bonnet for Oil or Lotion. You will also recieve a 1 year warranty from the manufacturer.