Vollara Air & Surface Pro Plus - $1499.00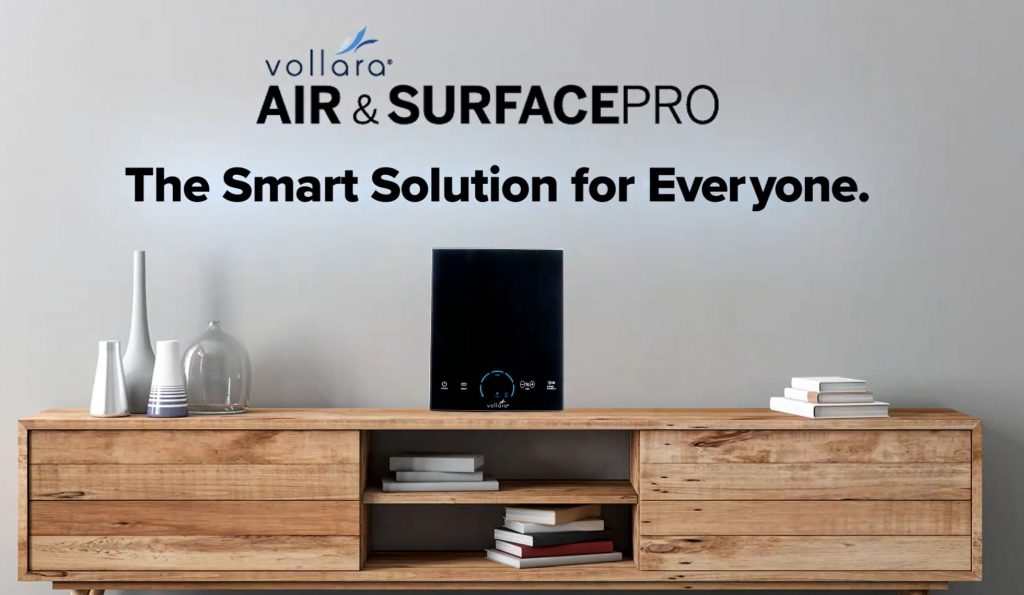 Because COVID-19 is an airborne virus, this year will see an increased focus on air purification methods.  Many have turned to sophisticated air purification technology, or air monitoring systems, such as HVAC purification, HEPA filters throughout the home, and UV air treatment within homes. 
Air cleanliness will likely become a significant component of cities and businesses re-opening after COVID-19 lockdowns.  Respiratory wellness will continue to receive attention because COVID-19 can cause lung complications, with cough and shortness of breath that can affect individuals long after they have recovered. 
Using NASA-Based ActivePure Technology®, the Vollara Air Purifier rapidly eliminates 99.9% of Airborne SARS-CoV-2 Virus in FDA-Compliant military lab tests in an enclosed setting in just 3 minutes, below detectable levels. Testing of the ActivePure Technology® was conducted by one of the world's top biosafety testing facilities, the University of Texas Medical Branch (UTMB), which primarily tests for the U.S. military and the Centers for Disease Control (CDC).
The product's intended use is to reduce the amount of SARS-CoV2 virus present in the air and on hard surfaces in commercial, residential, and medical settings, and can be an integral product to add for the safe openings and operations of schools and businesses like gyms, restaurants, diners, theaters, salons, etc.  The unit can also be used in the traditional office atmosphere as well as in homes.
Unlike conventional, passive, filtration-based air purifiers, ActivePure works immediately and does not require capture or exposure time. It rapidly and continuously fills a room with virus-neutralizing particles that instantly break viruses down to their component parts, rendering them harmless. ActivePure surrounds a person with protective virus-inactivating air, which is especially important in a medical setting. 
Positive and Negative Multipoint and RF Ion Generation
Five-speed fan
Adjustable Purifier Control (A-PURE+ only)
LCD Display
HEPA and Activated Carbon filters
Depart Room Function w/ adjustable Digital Timer
Maintenance reminders
Replaceable ActivePure® Cell
Removable Rear Grill
Universal Power Supply with cords
Electrical
Input Voltage: 100 ~ 240 VAC; 50/60 Hz external
Power Supply; DC 24 Volts; 1.5 Amps Max Power
Consumption: 43 Watts Max.
Dimensions
11.75″ high x 9.5″ wide x 10″ deep
Weight
7.6 pounds
Purifications Plate Output
(High Mode)
>  2.0 ppm
Coverage
Covers a range of 500 sq. ft. | (42 m2) to 2000 sq. ft. (186 m2)*


* Depends on variables such as severity and frequency of pollution, humidity, and temperature

Warranty
Three year limited warranty
Testing done at MRIGlobal, an independent, FDA-Compliant laboratory. % Reductions measured incrementally over natural degradation of SARS-CoV-2. Outside of control group – over 99.9% reduction of SARS-CoV-2. Testing was performed on the Aerus Hydroxyl Blaster with ActivePure Technology.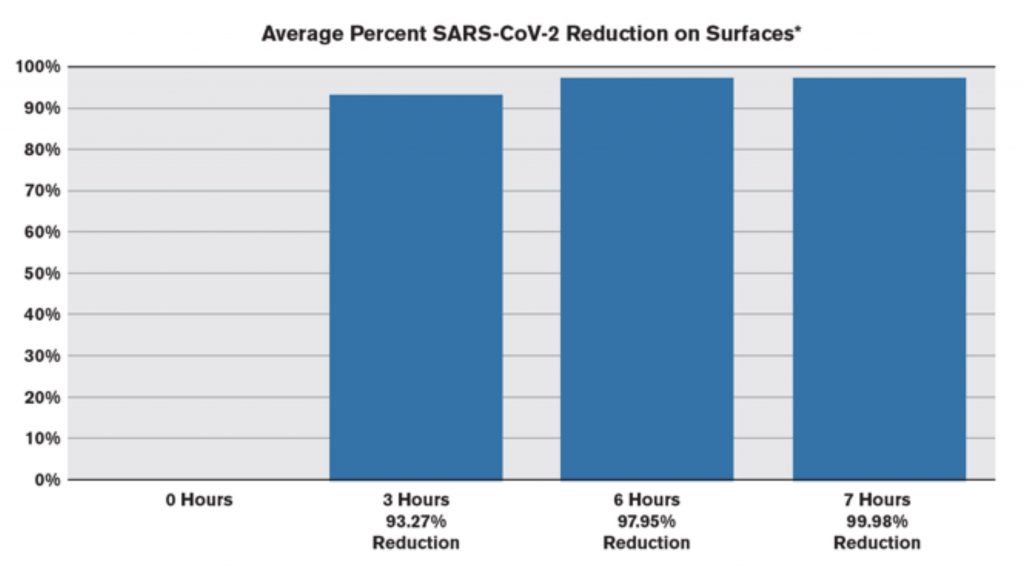 The Vollara Air & Surface Pro+ combines multiple complementary technologies, including HEPA, activated carbon, ozone, and ActivePure® Technology. Patented ActivePure Technology is the most powerful surface and air purification ever discovered. It has been proven to reduce over 99.9% of many common airborne and surface contaminants. In extensive independent lab testing, ActivePure® Technology has been proven to significantly reduce the following contaminants and pathogens:
• SARS-CoV-2 – RNA Virus
• H1N1 Influenza
• H5N8 Influenza
• Murine Norovirus
• MRSA
• PhiX-174
• MS2 Bacteriophage
• E. coli
• Salmonella enterica
• Legionella pneumophila
• Erwinia herbicola
• Listeria
monocytogenes
• Candida auris
• Botrytis cinerea
• Sclerotinia
sclerotiorum
• Aspergillus versicolor
• Aspergillus niger
endospores
• Methicillin-resistant
Staphylococcus
epidermis
• Staphylococcus
epidermidis